Hello!
I've got some more of The Sort Of Fairytale House to show you today...
This is my newly made over, half bathroom, on the first floor
Here's the before state it was in when we purchased the house in March 2011...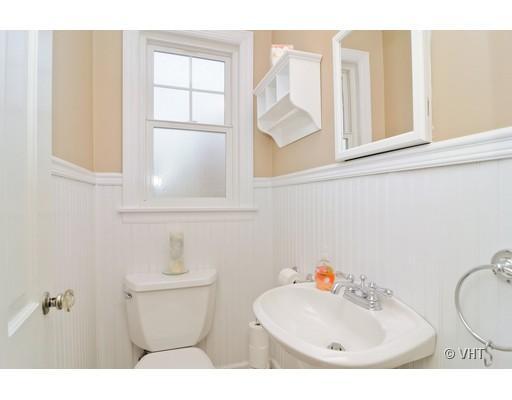 Luckily, the bead board and nice fixtures were already there. All I had to do was paint! I chose "Cherries Jubilee", by Glidden. I have never painted a wall in such a bold color before, but this bathroom was just telling me it wanted to be red. It's a bit of a rosier red in person, than pictured. Another good red, if you happen to be looking for one, is "Barn Red" by Martha Stewart. I really love how the red looks with the white trim and bead board.
I kept the white shelf that came with the bathroom (see before photo). It's rather basic, and may be replaced someday, but for now it does the job...
I really like the pedestal sink...the tile, not so much. It's just blah, boring, beig-y squares. Oh, and we do use toilet paper, I don't know why there is none on holder...I blame it on my husband. Anyway, someday, I would like to replace the current tile, with tile like this...

I'd also like to change the faucet knobs to something close to this...

These are the lights over the mirror above the sink. They originally came with modern, opaque, white, glass shades. I replaced them with these more dainty glass shades...they were under $5 each from Menard's (hardware store). I am on the lookout for some vintage glass shades though.
My little valance is just three vintage hankies folded over a tension rod...
On a side note, these door knobs are what we have on almost all of the doors in our house. I just love them, and have never seen glass ones like these before. Our house was built in 1942, by the way, it's a "Georgian".
Even though, I've still got some ideas/plans in the works for the little red bathroom, I am happy with how it's turned out so far...hope you enjoyed checking it out!

and